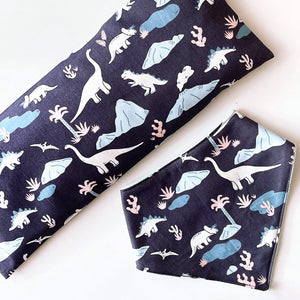 Dinos on Navy Set (Beansprout Husk Pillow+Bib)
Regular price $39.90SGD Sale
A matching set of a Beansprout Husk Pillow and a Bandana Bib nicely tied up with a gift card. 
 Beansprout Husk Pillow
 Our pillows are filled with 100% natural bean sprout husks which have been carefully selected, sunned, disinfected and sterilised. 
Each pillow is 16cm by 42cm and weighs approximately 200g. The removable pillow cover is made of premium closed weaved cotton fabric.
 Benefits :
Simulates mother's touch to calm and comfort baby.
Cushions against sudden movements and noises that may startle baby.
Helps baby to have a more restful sleep.
An effective and organic tradition passed down through the generations in South East Asia.
 How to use :
Distribute the fillings evenly across the pillow and gently place it over baby's tummy or chest.
Bandana Bib
Non-stretch Cotton outer fabric paired with a terry cotton inner fabric
2 sets adjustable neck snaps buttons to fit 14" to 16" neck circumferences
Suits toddler up to 36 months