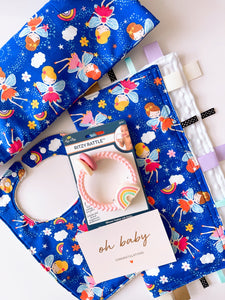 New Born Essentials Gift Set - Fairies
Regular price $89.90SGD Sale
This gift set is perfect for baby showers and new baby arrivals. Practical, well made and beautifully packaged, it's a gift that will be welcomed by every mum-to-be!
 This set includes:
Beansprout Husk Pillow - Helps baby to enjoy a more restful sleep by cushioning baby against sudden sounds and movements. Calming and soothing.
Baby Feeding Bib - Soft and absorbent with a terry cotton backing
Tag Blankie -

Colourful and textured ribbon tags all around the edges of the blanket encourage baby to touch and pull, providing sensory stimulation and aiding in baby's fine motor skill development. 15" X 15"
Itzy Ritzy Baby Teether Rattle - a sensory toy doubles as a comforting plush character and a soft teether
Gift Card - We will include your personalised message
Gift Box - Beautifully crafted and can be used as a keepsake box